Minnesota Carbon Monoxide Law
As of January 1, 2007 a new Minnesota carbon monoxide law requires that all newly-constructed, single and multi-family dwellings have a UL listed carbon monoxide alarm installed. The law states that 1 detector be installed within 10 feet of all bedrooms in the home. This may mean that some homes will require more than 1 detector if the there are multiple sleeping areas throughout the building.

As of August 1, 2008 all existing single families are required to have appropriate number of CO detectors and on August 1, 2009 all multi-family dwellings will need to come into compliance.

View more detail about the new Minnesota law here...

Why was this law enacted? From 2002 to 2006, 92 Minnesotans lost their lives to accidental carbon monoxide poisoning. Carbon monoxide is produced from the combustion of fossil fuels. Thus the burning of propane, natural gas, charcoal, wood and gasoline all produce this silent killer. Since CO is an orderless and tasteless gas it is especially important to have a detector to sound an alarm.

To help you comply with the new Minnesota Carbon Monoxide law we have found a simple battery powered unit that will provide the protection you need. Many units are of the plug in variety, but we feel that these are not necessary and possibly inadvisable if you have pets or children that could knock them loose or damage them.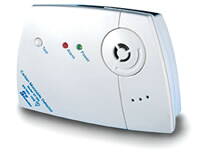 To protect your loved ones we are offering at a very special price for Minnesota residents the... Honeywell SF350RVUL Carbon Monoxide Detector.



Honeywell is the worldwide leader in gas detection technology. A proven brand that you can trust!


It comes with a mounting kit. This will have you up and running in minutes. Batteries Included! Anybody can follow the simple instructions that are provided.

There's no wiring. So it won't clutter any part of your home. In fact, after a while you probably won't even notice it's there! You just set it and forget. It sits there almost invisible working for you around the clock.


How many CO detectors are needed for your home? This depends on your floor plan. Learn more here...


How much does something like this cost?

Well, if you bought a battery powered detector at the store you may find one for less. But check the features. You are probably getting less. Remember Honeywell is the leader in gas detection alarms.

You'll receive free shipping for your new detector


You will get all of this, for a one-time easy payment of just...$32.95
Return from Minnesota Carbon Monoxide Law Page to Carbon Monoxide Main Page