Furnace Air Purifiers
Furnace air purifiers are an excellent way to combat air quality issues in your home. Your HVAC duct system will effectively circulate the air with in a building many times per hour. Thus an in the duct type purifier will simply and effectively clean more air.

All furnaces come with some type of filter which is good at trapping dust and other large particulates. But you need something more, to target smaller often times more dangerous particles.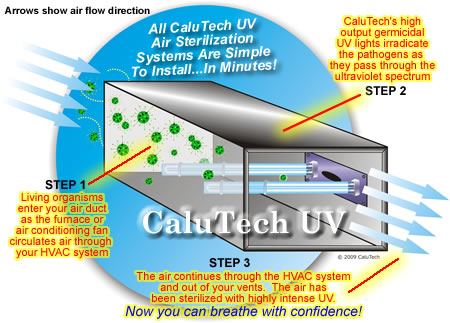 UV-C furnace air purifiers mount inside of the duct work and sterilize the air in the building as it funnels past the light. It destroys pathogens such as airborne bio-agents, viruses, bacteria, mold, and mildew.
When installed within sight of the air conditioning coils you'll enjoy additional benefits; UV light actually help clean the coils of mold and slime that accumulate because of the damp conditions found there.
A clean furnace translates into increased energy savings as the air flows smoothly through the furnace coil.

Calutech UV-C air purifiers have an added benefit that greatly increases their germicidal abilities. This formula known as OxyCat causes oxidation of organic contaminants using micro sized magnetic particles coated with a non-toxic catalyst formula, becoming agitated and active by a magnetic field when the UV lights ignite. This process releases what's known as hydroxyls, powerful air oxidizers that are basically 'air scrubbers' when they come in contact with these organic contaminants throughout the building. This technology comes as a special sleeve mounted on the UV bulb itself. Very unique and yet to be duplicated.

If you have a heating/air conditioning system with a duct system this should be an important part of your indoor air quality program.

Calutech UV-C
Whole House Air Purifiers
Our best seller! Ducts must be 16 inches for bulb clearance.
36 watt standard UV-C bulbs included.


For tough mold and odor problems! 2-16" high power 60 watt bulbs


For smaller building and small ducts.
9 inch bulbs
18 watt standard UV-C bulbs included.


2,500 sq/ft
4,000 sq/ft
1,500 sq/ft
Furnace & A/C Air Duct Mounted
Furnace & A/C Air Duct Mounted
Furnace & A/C Air Duct Mounted

10 Year Warranty Available

10 Year Warranty Available

10 Year Warranty Available




$279.97
free UPS
shipping included to
USA and Canada (USPS)





$339.97
free UPS
shipping included to USA and Canada (USPS)


$204.97
free UPS
shipping included to USA and Canada (USPS)




Return From Furnace Air Purifiers To UV Purifiers Main Page