The New Wisconsin Carbon Monoxide Law
Governor Jim Doyle signed the Wisconsin Carbon Monoxide law on March 13, 2010. This new law requires CO detector in all single family and duplex type residences. The effective date for this is February 1, 2011. You can view the entire text of the law here.

How to comply?

The law states that all bedrooms must have a unit installed in a common area with 21 feet of each bedroom. The law also requires a unit on each level of the home in a common area, like a hallway or family room.

Carbon Monoxide Kills

Just a week before the new law was to go into effect an 88 year old Auburn, WI man and his dog were found dead in their home. The culprit was faulty furnace that was spewing this odorless gas in to the home. So without a detection device it's very difficult to realize the problem before it's too late. This type of tragedy occurs about 200 times a year in the Untied States.

What do I need to protect myself?
To protect your loved ones we are offer at a very special price for Wisconsin residents the... Honeywell SF350RVUL Carbon Monoxide Detector.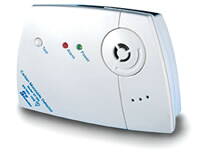 Honeywell is the worldwide leader in gas detection technology. A proven brand that you can trust!
It comes with a mounting kit. This will have you up and running in minutes. Batteries Included! Anybody can follow the simple instructions that are provided.
There's no wiring. So it won't clutter any part of your home. In fact, after a while you probably won't even notice it's there! You just set it and forget. It sits there almost invisible working for you around the clock.
How much does something like this cost?
Well, if you bought a battery powered detector at the store you may find one for less. But check the features. You are probably getting less. Remember Honeywell is the leader in gas detection alarms.
You'll receive free shipping for your new detector
You will get all of this, for a one-time easy payment of just...$32.95
Return From Wisconsin Carbon Monoxide Law Page to Carbon Monoxide Main Page
Return From Wisconsin Carbon Monoxide Law to Indoor Air Pollution Main Page