My Radon Test Results!!

(UTAH)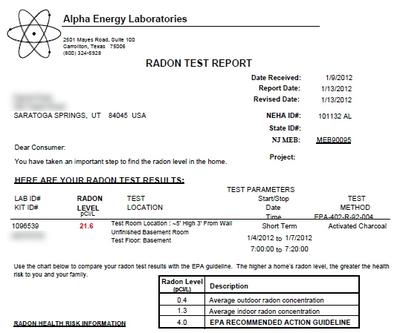 Pre-Mitigation Test
The advice and products provided are an effective solution. I was able to install the system for less than half what I was quoted by an abatement company (that included my rotary hammer drill purchase from Harbor Freight).


My readings had been as high as 21.6. After installing the system my levels are at <.6. (click on diagrams to see results)
It's so nice to have peace of mind. I slept downstairs last night (it's cooler) and as I was walking up the stairs this morning I just thought, 'Man it's nice not to have to worry about radon'.
I really respect Val's business model and would recommend any DIYer to seriously consider going through him.
Join in and write your own page! It's easy to do. How? Simply click here to return to Customer Reviews and Feedback.