New Sump Cover Installation
by Very Happy Client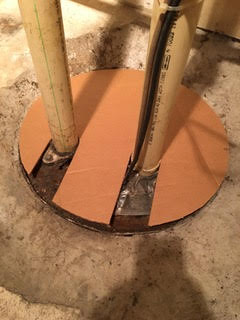 Cover Template
Val,


You might not remember me. I called you a few times in preparation for an order that I placed in late October. I had a old sump pump lid that needed to be replaced. I know that you folks do this all the time, but for me it was a "one time" effort and I wanted it to go well.
I built a cardboard template to ensure that I positioned the vent and electric holes in the right location on the new lid, measure twice, drill once (see photo).
Then I removed the old metal lid and cleaned up the rim / lid landing area. Drilled two vent holes and the electric service hole in the new lid. Disconnected the 2 PVC Vents and replaced the old lid with your new lid….had to put the two 2 inch PVC pipe gaskets in upside down (just couldn't get it to work right side up)….and then caulked the seams (lid and all 3 gaskets). I am confident that it is "air tight"….huge improvement over the old deteriorating lid.
Although you can't tell from the photo the caulk dries clear.
Just wanted you to know I am very happy with your products and the outcome of this effort.
Thank you for your time and willingness to help me get to "job done".