Radon Level from 36pCi/L to less than 0.3pCi/L!!
by Bryan
(central PA)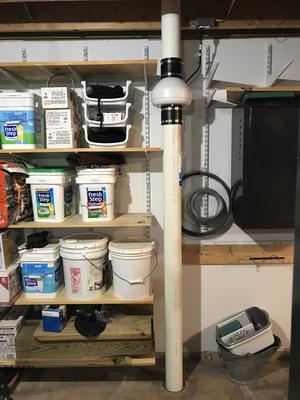 Fan in Garage
Val,


Thank you for your terrific website, personalized advice and one-stop shopping through your store with very reasonable prices. We've needed a system since we purchased our home but have always hesitated for fear of getting a poor installation. Your site provided everything I needed to know and finally get moving. The latest pre-mitigation test read 36pCi/L - enough to accelerate my plans. I was able to make a straight run from our garage, through an upstairs closet and out the roof with only three joints, two of which are the fan connections! Careful planning made all the difference. I just got the post-mitigation test result and we were less than 0.3pCi/L! Thanks again!!
Join in and write your own page! It's easy to do. How? Simply click here to return to Do It Yourself Radon Mitigation Systems.