Radon Mitigation Knoxville IL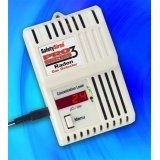 Pro Series 3
Val


I got the Pro Series 3 Radon Gas Detector before I started the radon fan. It read 15.8 two days later. I started the fan and after two days it read 1.2.
Thank you for handling such great products and for your advice. I will make sure your name and web site is put out down this way. It was far cheaper than the $1800 that was quoted.
MA
Knoxville, Il
Join in and write your own page! It's easy to do. How? Simply click here to return to Do It Yourself Radon Mitigation Systems.