Successful Radon Mitigation, from NY
by Frank
(Monroe, NY)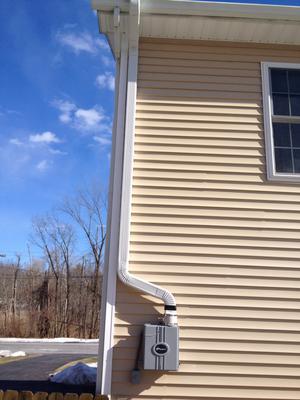 HP190SL installed at the rim joist.
I found this site after two Radon tests showed elevated levels of 7.9pCi/L. I filled out the survey and within a day Val emailed me back with system recommendations and several attachments on how to test your soil communication and set up a system. I sent in several emails with more questions and always had a quick response. In return, I purchased all my equipment through this site, where the prices are more than competitive. My post mitigation test just came back at <0.4pCi/L.


Thank you Val for all of your help. This site is very informative, and gave me the tools and info I needed to tackle this project on my own. It not only saved me hundreds of dollars, but armed me with all the knowledge I needed to both set up and maintain my system.
Join in and write your own page! It's easy to do. How? Simply click here to return to Customer Reviews and Feedback.