Sump Pump Well Radon Mitigation
by Tim O'Grady
(Monument, CO)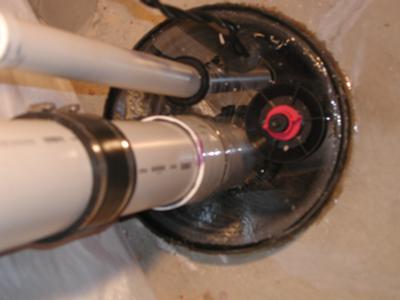 Sump Pump Cover
Since we first found out that our basement radon level was 12 pCi/l ~ 7 years ago when we were thinking of selling our house, my wife had been after me to do "something". Well, better late than never, I stumbled upon Val's website which had a plethora of info and was very impressed with his sump pump well solution (Lexan, thru grommets, access port, etc).


Since my perimeter drain into the sump pump was external to the footer, I minimized the perimeter drain opening by reducing the 3" tile pipe opening by putting a cap on it with a 1" hole in it (should be plenty big for the amount rain water draining into it) and bored another 4" horizontal hole into the plastic sump well side just under the slab. I dug out under the slap as much as I could given the 4" hole and my arm's length. I then had to route 4" Schedule 40 pipe (~ 50') from my basement to my attic where I punched through the roof (away from windows & eaves) to vent the gas. I sealed up the sump pump well, installed the RP-145 fan and manometer and viola, I had about 0.9"WC right off the bat (max WC for RP-145 ~ 1.7 "WC). I then took a little concrete patch mixture/silicon to seal up minor leaks around the sump pump area which resulted in a pressure increase to 1.0"WC.
I then tested again using a "charcoal" test kit ordered from Val and just got my test results today - 0.8pCi/l! My wife is now speaking to me again, hmmm....:). Anyway, throughout this process I consulted with Val who was a great help confirming my intentions/providing guidance and his site had all the right parts necessary. I have to say a professional could not have done a better installation job albeit it probably took me longer but it was done "right".
Great site Val and thanks!