Fantech Radon Fans

Fantech radon fans are a favorite of many radon companies. They are reliable and quiet. There line includes the HP190SL one of my personal favorites for outside high flow situations.
All of the fans on this page are best used for high flow situations like with drain tile and gravel beds below basement floors.
If you want some help, please go to my Radon Mitigation DIY page and fill out the form at bottom of the page.
---
Fantech HP190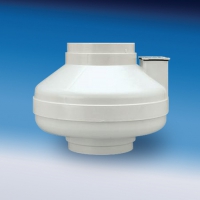 Fantech HP190 is a medium suction higher air flow fan. Best used with gravel or sump and drain tile situations. Max pressure is 2.01"WC. Rated at 81 watts.
Note: this fan needs special size couplings to mount to 4" pipe and 3" pipe. The couplings for 4" pipe are available below but the 3" are not currently available though our warehouse.