Radon Level From 15pCi/L
to 0.3pCi/L!
by Matt
(Waukesha, WI)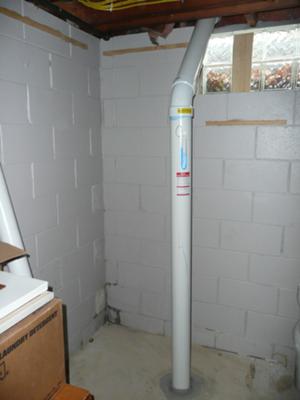 4" Mitigation
Did a radon test of my basement and found out that it was 15.7. Dropping that level down was a must, so I started doing some research. Val was a wealth of information allowing me to install my own mitigation system within 1.5 weeks.


My two story house didn't allowed me to do an indoor system, so I opted for an outdoor system. Local quotes, $700 - $950 . . . all in, I am at $330.
I didn't want to mitigate through my sump pump as it would vent out by my patio. I core drilled on the opposite side of the basement and have it vented to the side yard that no one sees. 4" piping converted to 4" gutter.
I tapped into the drain tiles under the floor along with sealing up the sump pump crock.
Val has it all that you need, along with the most important item . . .
INFORMATION
. He is easy to get a hold of and knows how to get these systems installed correct. If you are handy, you can install your own mitigation system; saving you money and making it look the way you want.