Radon Monitors for
the Home Owner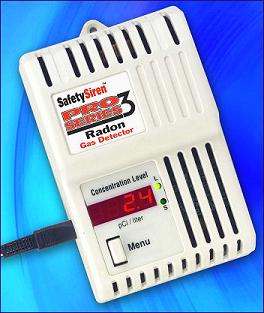 Inexpensive radon monitors have been around for a few years. I must say that I was not impressed with the 1st attempts to provide an affordable electronic radon tester for the public. But the Safety Siren Pro Series 3 radon monitor is a quality product.

I have mitigated a number of houses where these devices were being used by my customers. When I perform a radon mitigation a follow up test is performed to verify the results of the radon fan system. I provide a Air Chek short-term 3-7 day charcoal test kit and the results have been been right in line with the digital readout on their Safety Siren radon detector.

So for those of you who like science experiments, this little tester is kind of fun to watch, since radon levels will vary greatly, even over the course of a day. But this will only give you a readout every seven days and will keep track of long term averages from the time it is first plugged in. If you are looking for a continuous read out you'll pay close to $1000 USD or much more.

The Safety Siren Pro Series 3 radon detector is definitely worth $129.95. But if you end up with some border line results in the 4pCi/L range, you may want to purchase a short-term test kit to verify your results. The scientist in me says yea it's worth it...
And hey when you are done with your house you can try it out at your family and friends homes too!!

Free Shipping to USA and Canada
| | |
| --- | --- |
| Pro Series 3 Radon Detector .....$129.95 | |
---
Airthings Wave Radon Detector

Airthings Wave is an easy to set up digital radon detector.
The Detector

The Wave provides you with detailed information not only about the radon levels in your home, but also the current temperature and humidity levels. Radon levels can be checked with or without a smart phone or tablet. The detector automatically calibrates to its environment, improving accuracy.
The App

Use the free app to see radon levels and compare daily, weekly, monthly and yearly radon measurements. The app updates constantly when in range of the unit and notifies you when radon levels are high or when the battery levels are low.
Manual Check

You can wave your hand in front of the detector and get a current reading with easy to understand color codes: green (good), yellow (warning), red (danger). An audible alarm also alerts you to high radon levels.
Installation

The Wave is easy to install on the ceiling or a wall requiring only one screw. 2 AA batteries (included) will give you about 1.5 years of peace of mind.
Free Shipping to USA and Canada
| | |
| --- | --- |
| Airthings Wave Radon Detector .....$199.00 | |
---
---